*Disclosure: This post has been compensated by Collective Bias, Inc. and AcneFree. All opinions are mine alone. #AcneFreeSummer #AcneFreeLife #CollectiveBias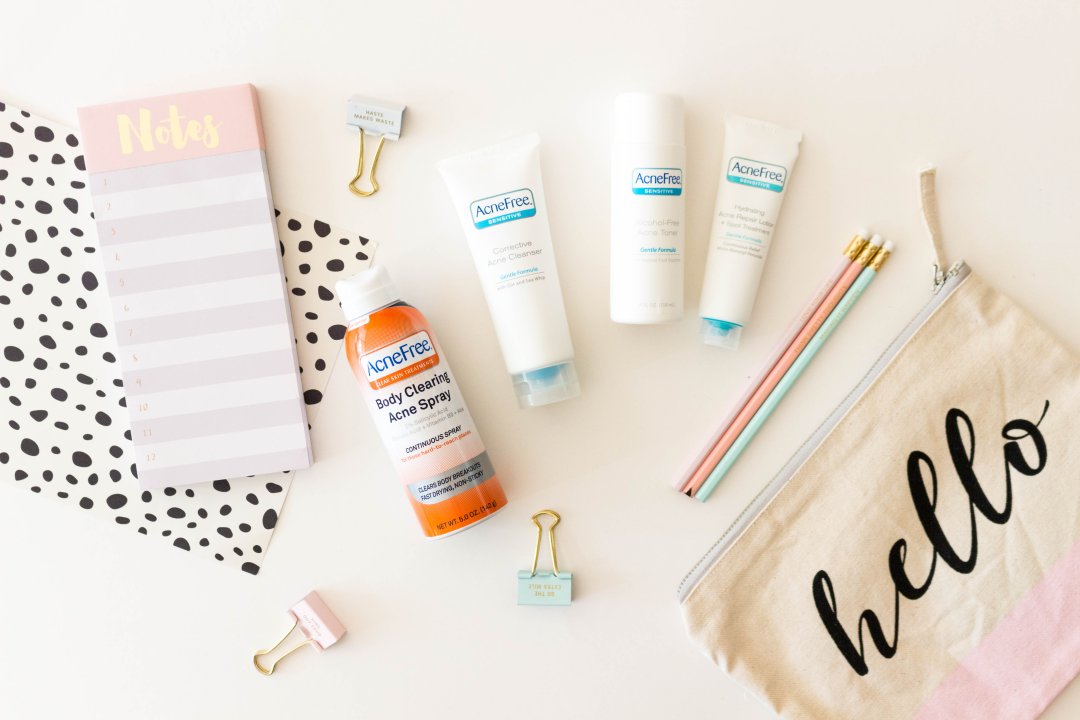 Hover over this image to shop the products!
Back to School  in Confident Skin with AcneFree
Everyone wants to start a new school year with fresh, clear skin. Being a busy student with lots of extracirricular no one has time or patience for a long skin care routine. It's hard! I remember being in high school and college and having the worst time sticking to a skincare routine. I didn't want to mess with it and I didn't know how important it was. I heard so many wonderful things about these skincare systems, but 5 steps is just way too much for a young college girl who has places to go and people to see. Not to mention, I had crazy sensitive skin, so these harsh acne treatments only irritated my skin more. Luckily, there's AcneFree. AcneFree Sensitive Skin 24 Hour Acne Clearing System is for those of us who have sensitive skin, so we can easily care for our acne-prone skin. I purchased my kit at Walgreens, but you can also get it from Walmart or order from Amazon.com!
AcneFree Sensitive Skin 24 Hour Acne Clearing System
The AcneFree Sensitive Skin 24 Hour Acne Clearing System uses 1.5% salicylic acid in the cleanser and 3% benzoyl peroxide in the spot treatment. This is a very healthy amount for young skin. These products are great for fighting pimples because it dries them up quickly. It also penetrates deep into pores to get out those pesky blackheads! If you have sensitive skin, the thought of using something drying on your face might make your face itch just thinking about it. However, I tried this line out for a few days and I experienced no irritation on my skin! I no longer have a need for fighting acne, but I wanted to see if it was truly good for sensitive skin. I think it's really hard for teenagers to find acne products that are safe for their skin (and body), geared for sensitivity, and cares for acne-prone skin. Before you goth medication route, try AcneFree first.
This line comes with a corrective acne cleanser, alcohol free acne toner (huge! too much alcohol in your skin care is not good for your skin at all), and a hydrating acne repair lotion + spot treatment. This 3-step system is so easy to add to your daily morning/night time routine. Wash your face, apply your toner, apply your lotion + spot treatment where you need it, and done!
AcneFree Body Clearing Acne Spray
Another part of our skin I think no one really like to talk about is acne on our backs. We often feel embarrassed by it and it's easier to cover up than treat. Focusing on our face is usually the most important because that's what people see. Besides, how many products can you think of that are made for acne on your back?! I've always suffered from a little bit of acne on my back. I played a lot of sports growing up so naturally, my back would sweat. Athletes are prone to acne on their back because they sweat so much, and it gets clogged in those pores so much easier. I've been using this product several times throughout the week, and I think it does a great job of clearing up any acne that is coming to the surface. It comes in a 360 spray bottle that you can easily use yourself. The product can be drying because it has 2% salicylic acid in it. It's a bit stronger, but your back isn't as sensitive as your face. It isn't sticky and dries quickly so you can move on with your day. I would highly recommend this to all athletes and anyone who suffers from mild to severe acne on their back.
The AcneFree Sensitive Skin 24 Hour Acne Clearing System and AcneFree Body Clearing Acne Spray are great for high school students or young adults in college. I wish that growing up I had something like this for my sensitive skin, that wasn't too powerful!
AcneFree is launching a 4-week sweepstakes, starting today! 3 grand prize winners will win $1,000 in spending money and AcneFree supplies for a year. Additionally, AcneFree will give away 10 AcneFree® 24 Hour Acne Clearing Systems every week for 4 weeks. No Purchase Necessary. To enter, simply enter your name and email address here . Use the form to follow on Instagram and Facebook to earn extra entries. For more information and full rules of the sweepstakes, please click here.
Learn more about AcneFree products, here!
How are you getting your skin ready for back to school?
xo, Rach